Cars have been around for a while now and boy, have they evolved.  We were having a discussion the other day about which era could be considered the best in the history of the automobile.  Now, bear in mind we are all different ages and genders, come from different backgrounds and have VERY different ideas as to what constitutes a great car (some are in the BMW court, others had bad words to say about that!), this discussion was, well, animated to say the least.
Here's what we discovered about our fellow car lovers' thoughts on the subject….can you guess which era came out on top?  Read on to find out more.
🚗          🚗          🚗          🚗          🚗          🚗
We mostly agreed that early cars, although spectacular feats of engineering for their time and jolly beautiful to look at now, really weren't all that practical in soggy weather and didn't really go at any speed.  When Karl Benz set out to design his first gasoline powered internal combustion engine and pop it in a car, we doubt he had a clue about what he was starting and just how much the automobile was going to take over the world. Let's face it, 1885 things were a little different.  It seems that Germany and the USA lead the way in automobile technology back then.
The first 'real' era brought up was the '60s – more or less the birth of the muscle car.  Pontiac, Dodge, Mustang, Road Runner, Camaro – all names synonymous with the era of a car you can hear coming from a mile away, that makes the road rumble and has speed for days.  Nostalgia abounds with these cars – it was a more simple time when people left their doors unlocked, drive-ins were the best date nights and driveways everywhere had muscle cars on them – that belonged to the teenager of the house!  Of course, this is more American.  In England you would more likely find a Rover 2000, which Autocar called 'one of the outstanding cars of the decade', an  Austin Mini or a Fiat 124. That's a different nostalgic view altogether!
Rover P6 (also known as 2000). Image: Wikipedia
Next we hopped forward to today – the twenty-teens. You can make calls without pressing a button (voice activated commands rated highly in this discussion with Ford and Mercedes battling that one out), listen to a thousand songs without changing a tape or a CD thanks to USB ports, listen to text messages; heck your car can even park itself while you sit back and relax.  The negatives?  Cars look the same. There's no stand out design, nothing that makes you go 'ooh I want one of those'.  At least not for the way it looks. Or sounds, since electric cars are removing that roar we're all used to.  Nope, nowadays we're buying a car for it's tech, not it's appearance.
There was a little lighthearted chat about the beauty of 50s cars; bench seats, convertibles, springy suspension – what's not to love?  Fifties American cars were big, bold and colourful.  And for some reason the term ' a '57 Chevy' always comes up (although until I started researching for this, I didn't know what one looked like – here you go).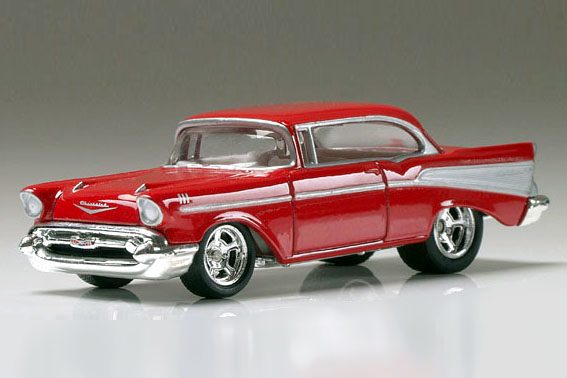 Thank god for Hot Wheels. And thanks for the image!
Ok folks, here it is…. the overwhelming consensus was that …. of course….the 1980s was the BEST era for cars. It wasn't even all about the car, although when you have a Capri (preferably two tone silver and blue although banana and brown was up there), XR2, 3 and 4 (and i), Cosworths, MR2s and (oh yeah) a Quattro how can it not be!
But nope.  The reason other than the car itself?  Well, it was all about the accessory.  Name strips (no Capri was complete without 'Debbie and Dave' emblazoned across the top of the windscreen), fluffy dice and a traffic light air freshener hanging from the mirror, static strips on the back of your car (had 'em, no idea what they did) and a dashboard compass all featured in an 80s car.  It was the first time people started replacing their gear knobs with 'more flashy' versions. It was unusual if you didn't have something in or on your car.   'Nostaligc sigh' – rarely do you see these automotive relics nowadays.   However of all the eras, this need to fill our cars with fun stuff is probably the one that has the most influence now.
Image: iShop
Like all things 80s, whether you lived in that era or not, it's instantly recognisable (every 80s movie ever starts with a punchy song, no-one else wore day-glo let warmers and if you didn't get a mixtape were you even really in a relationship?) and often longed for.
Want to take yourself back to the era of the car accessory?  Get on down to Oak Road – we've got you covered….we might not be able to get you a name strip but we've definitely got the fluffy dice!